There are many people who are just crazy for chicken. It is a delicious treat that you can enjoy with family and friends. It is not only a very tasty food but is also rich in various health benefits. Chicken is a rich source of proteins and it is very good for building muscle strength. It is very good for bone strength and helps to build immunity. It is rich in important nutrients and helps in boosting metabolism. Always try to buy fresh chicken from the market and then you can prepare some really awesome recipes with it.
Here Is a List of 10 Indian Best Chicken Recipes That You Must Try
Murgh Malaiwala
Marinade the chicken by making small incisions and use a paste of garlic, ginger, white pepper to marinate. Use dry spices like cardamom, ginger, coriander, white pepper, saffron, garam masala and mix them in a mixer so that they get a fine texture. For making gravy, heat a pan and add some cream, green chillies, finely chopped onions. After some time add a little milk and the marinated chicken. Now add the mixture of dry spices that you prepared in the mixer and some salt according to taste. Cook on low flame for 15 minutes. Add finely chopped almonds on the top of your dish in the end.
Butter Chicken
Take a bowl and prepare a paste using, ginger, garlic, red chilli powder, curd and some salt. Marinade the chicken with this paste. Now after marinating keep it in the fridge for at least 6 hours. Roast it in tandoor or in an oven till it is cooked 3/4th. Now for preparing the gravy take butter in a pan, add tomato puree, some sugar, red chilli powder, cumin seeds and salt. Now add the chicken to it. Add some cream, and crushed curry leaves to enhance its taste. Cook until the chicken is completely soft and tender. Your dish is ready to be served.
Amritsari Murgh Makhani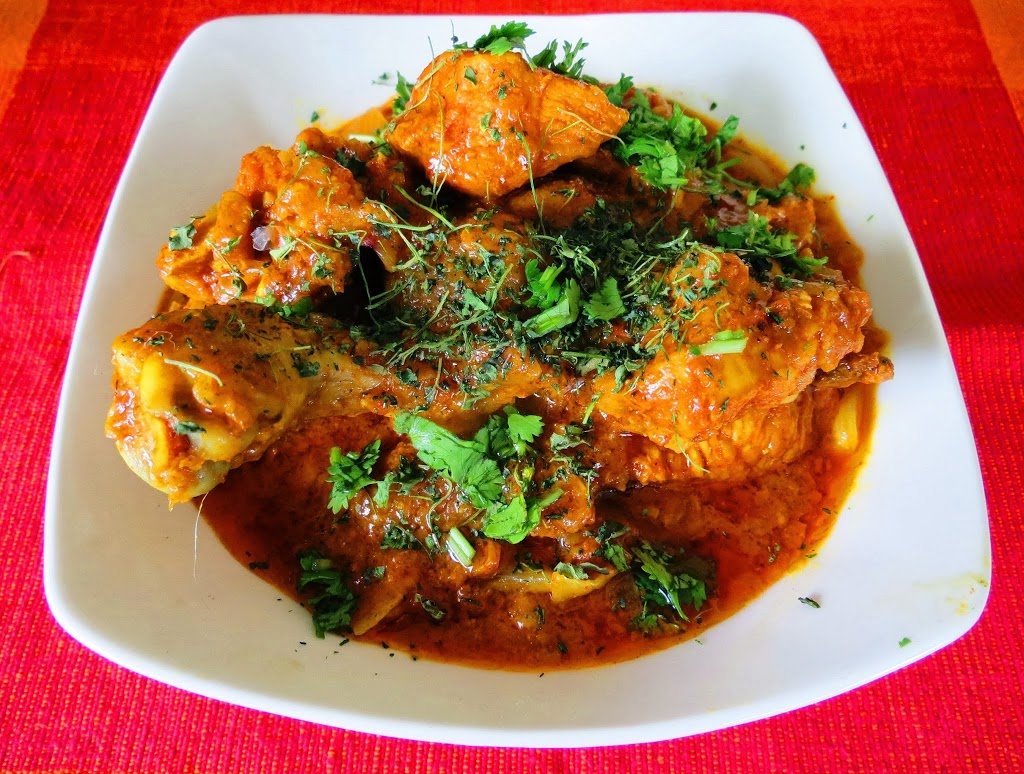 It is a very tasty recipe. Blend the tomatoes in a mixer to make a puree. Mix the ingredients as per your choice to marinade the chicken. Marinade the chicken pieces with this paste and leave for at least 2 hours. Take a vessel and add butter to it. When the butter gets heated add chicken to it. Chicken should be soft and tender. In a non stick pan add butter, chilli powder, cumin powder, coriander powder, salt, ginger and finely chopped green chillies. To this mixture add the tomato puree, some cream and orange color. After some time add chicken pieces that are already prepared. Cook on slow flame for 30 minutes. Garnish with coriander leaves and butter.
Chicken Dum Biryani
For preparing chicken cut it into pieces. Marinade the chicken and leave it aside for 20 minutes. Heat some butter in a pan and all the spices with garlic and ginger paste. Add onions after that. Don't cook the onions too much and after sometime add yoghurt. Add some yellow chilli powder and cook this mixture on low flame for 1 minute. Add chicken and salt after that. Add water and cook for 15 minutes. Cook the chicken partially and when it is done, pick out the chicken pieces and then strain the gravy on it. Keep this gravy aside. Now prepare the rice. Take water in a pan, add rosewater and salt and boil it. Then add rice and cook partially. Take a pan and heat half of the gravy made earlier with chicken pieces and when it starts boiling then add half rice to it. Check the seasoning. After some time add other half of rice. Cook for about 10 to 15 minutes on low flame and cover with some utensil so that rice and chicken are cooked well. Serve hot.
Masaledar Chicken Lollipop
Roast all the ingredients in a non stick pan and then make a paste of them in a mixer. Marinate the chicken lollipops using some oil, salt, turmeric and red chilli powder. Take a pan and cook it till it is half cooked. After cooking it half now add some sugar and continue cooking. Take some oil, chopped onions, curry leaves and mustard seeds and fry them a little bit in a pan. Add the chicken lollipops and the paste that was prepared in the beginning to it. Now add some jaggery, tamarind and water. Mix well and cover the vessel. Add some lime at the end and garnish with finely chopped coriander leaves.
Chicken Chettinad
Make a paste of ingredients that you want and add chicken pieces to it for marinating. Heat some oil and add cloves, cumin, cardamom and cinnamon. After some time add onions and curry leaves. After that add tomatoes and cook for 5 minutes. Add turmeric and chicken to this mixture and cook for 10 minutes. Add little water from time to time. Add salt according to taste. Cover the utensil with a lid. Garnish with coriander leaves.
Spicy Tangy Kadhai Chicken
Roast some fennel seeds, cinnamon, and peppercorns. Then grind them and prepare a paste. Take a pan, add some oil and the paste to it and keep it aside for cooling. Add red chilli powder, turmeric, peeper, tamarind, jaggery, lemon and salt to it. Marinate chicken with this mixture and leave it for half an hour. Take a pan and fry some onions and add pepper and chilli to it and keep it aside. In another pan prepare the chicken using some oil. Add some water and cook by covering the vessel for 30 minutes. Add the fried onions on it and mix well. Serve hot for better taste experience.
Kerala Chicken Roast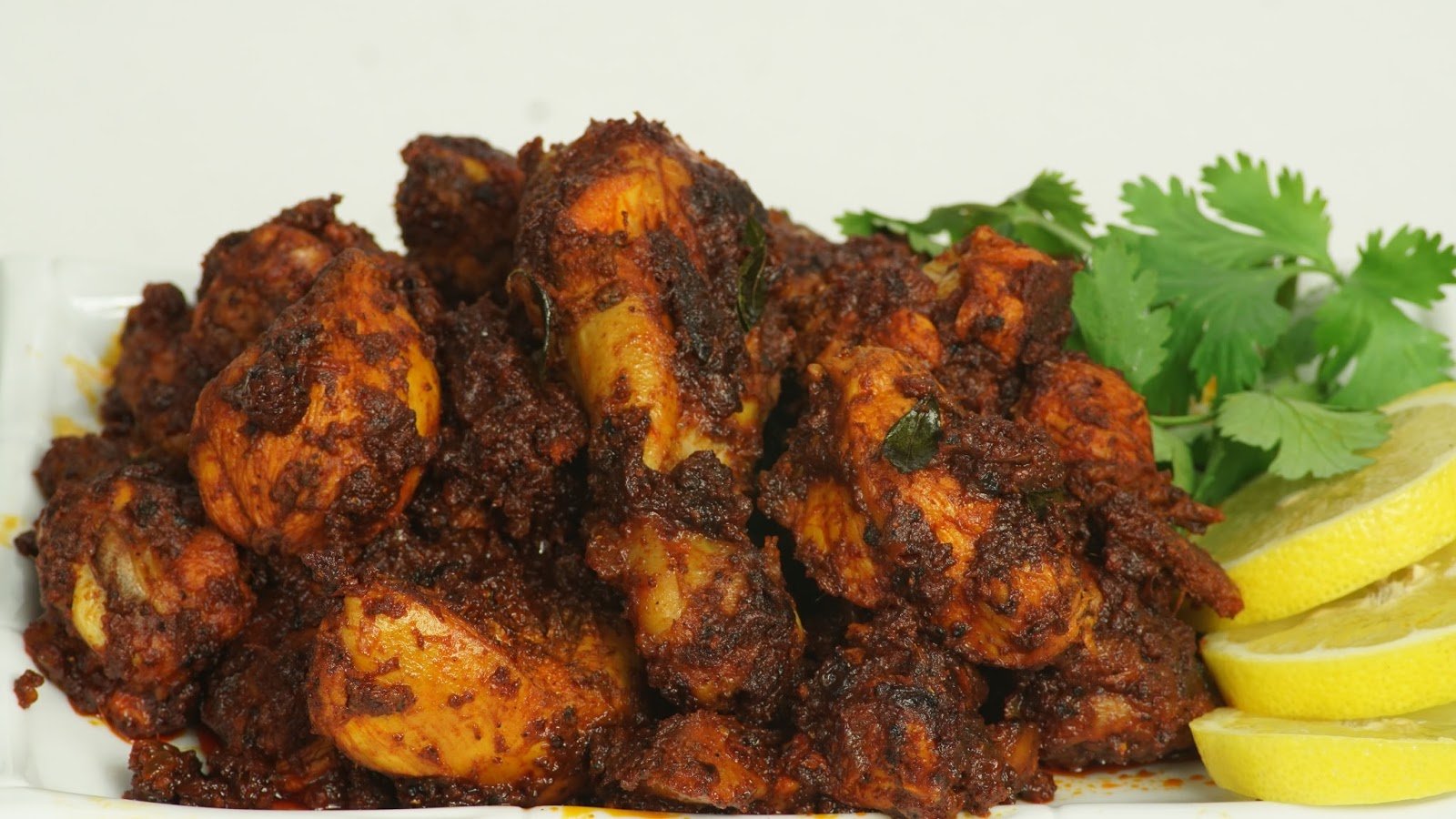 Marinate the chicken pieces in the paste of desired ingredients and keep it aside for at least one hour. Fry onions and keep them aside. Fry chicken in oil and cover the pan. Take another pan; add some oil, curry leaves, green chilies to it. After 1 minute add tomato paste. Now add chicken and roast in this mixture. Add pepper, salt and spices as per your taste. Add lemon juice to bring out flavors. Add fried onions in the end. The dish is ready for serving.
Chana Aur Khatte Pyaaz Ka Murgh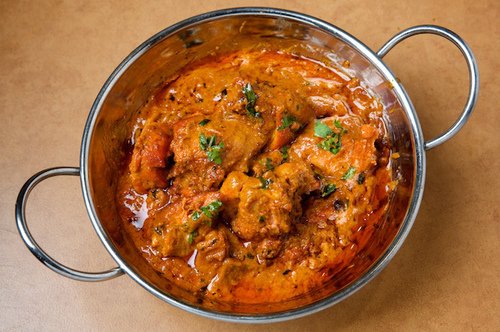 Take some ginger garlic paste, dry spices, lemon and salt and mix them to form a paste. Marinate the chicken using it. Boil the chickpeas and keep it aside. Take a pan and add some oil and marinated chicken to it and cook it nicely. Take another pan and heat some oil and add cumin seeds, onion, ginger garlic paste and other spices as per your taste. Add tomatoes after some time and then add the chickpeas and cook for 10 minutes. Now let this mixture cool and then grind it in a mixer with ginger and green chilli to make a paste. Now cook this paste and add yoghurt and mint. Add chicken and cream in the end. The dish is ready to serve.
Teekha Murg
Teekha Murg is a great recipe for people who love spicy food. Take a vessel and heat some mustard oil in it. Add some fennel and onion seeds. Now add finely chopped garlic and mix properly. Now add finely chopped onions, tomatoes, green chillies and ginger. Carefully stir this mixture on medium flame. To this mixture add boneless chicken cubes, tomato puree and other dry spices. On a low flame stir this recipe and keep a lid on the top after some time. Cook for about 15 minutes. At the end, add curry leaves that are fried, to enhance its taste. Serve with freshly chopped coriander leaves.